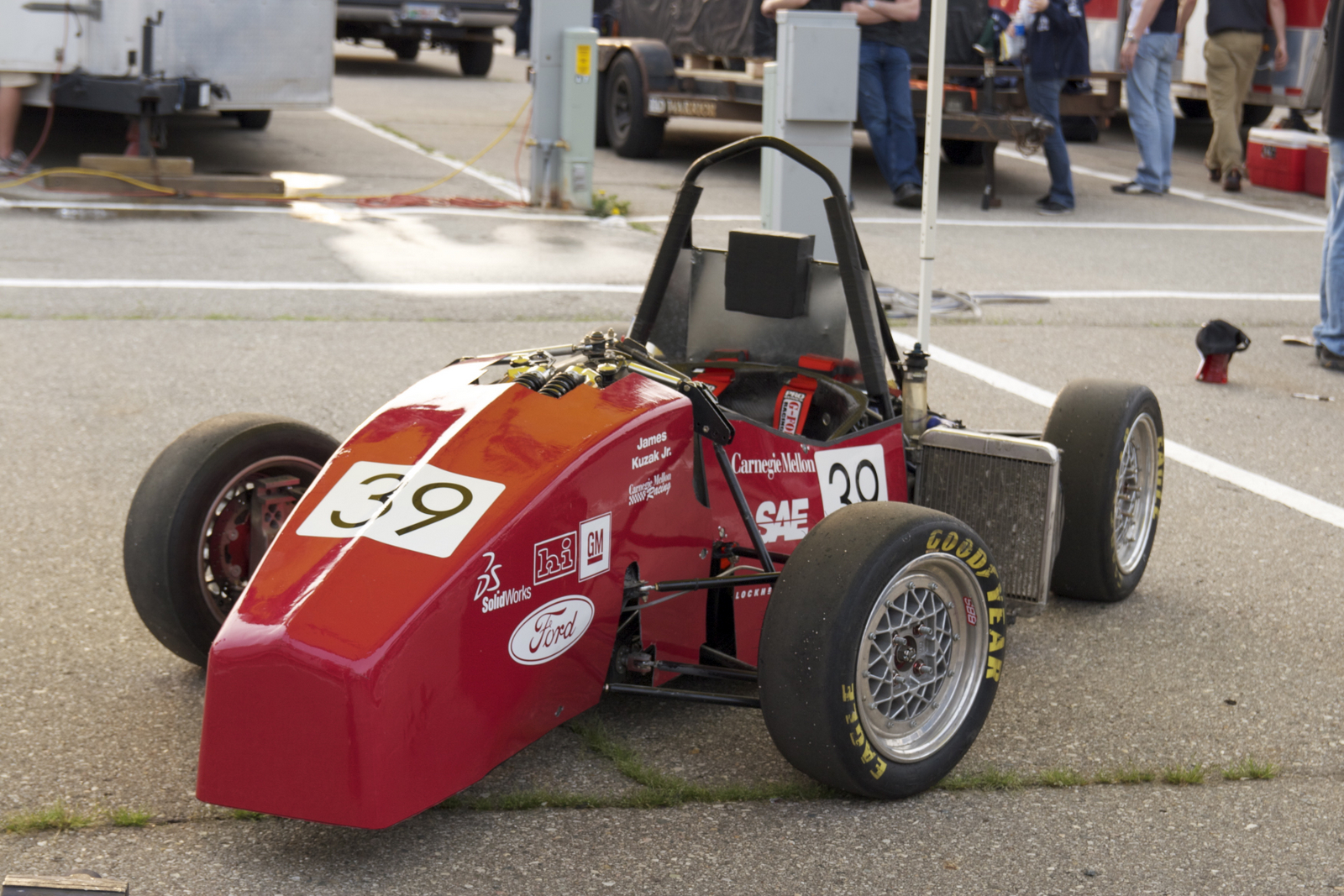 The Carnegie Mellon Racing team returned from the FSAE 2011 Michigan competition last Saturday evening. There were triumphs and tribulations, but ultimately we built a good foundation car this year to develop upon in future seasons. Here's a recap of the competition:
The team left for the Michigan International Speedway on Tuesday arriving with a minimal amount of work to get the car ready for Technical Inspection.
We went through our initial inspections without a hitch, passing safety, fuel and tilt testing. It was not until noise testing that we ran into our first hiccup.
As mandated by the rules, the car is required to maintain a 110dB sound level or lower at 11,000 RPM. Our initial testing put us in at 111dB, and it took us the rest of the day to knock down our noise level to a mere whisper: 106dB. With that we passed through noise and moved right on to our first dynamic test.
After the engine starts and the car rolls, for some reason the safety folk like to see our brakes work. This was no problem for us; upon accelerating the racecar we were able to reach an ample speed to lock the wheels.
Upon completing the brake test we went into the practice area to scrub our new tires. The tires and muffler failed after the round on the practice track. But, our problems were solved in time for the dynamic events.
With our car cleared for dynamic events, the team made a showing on the skidpad and autocross events in preparation for Saturday's endurance race. Endurance went relatively well; our drivers ran against other teams and we completed 17 out of 28 laps before we were pulled from the track for a failed brake light.
Overall, we've done great work this year. We had a running car to test prior to competition and race against other teams. In the future we will be iterating our design to improve our performance and ensure a competitive vehicle. I would like to thank all of our sponsors, alumni, advisors and team members for helping to make this year so successful.